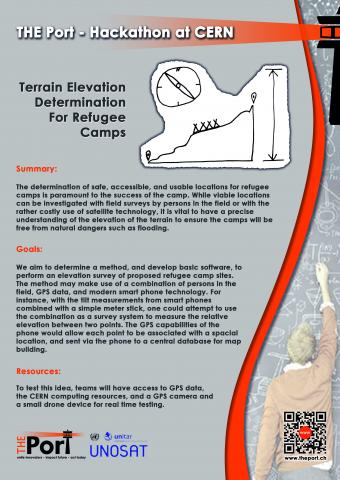 Description
The determination of safe, accessible, and usable locations for refugee camps is paramount to the success of the camp.  While viable locations can be investigated with field surveys by people in the field or with the rather costly use of satellite technology, it is vital to have a precise understanding of the elevation of the terrain to ensure that the camps will be free from natural dangers such as flooding.  We aim to determine a method, and develop basic software, to perform an elevation survey of proposed refugee camp sites. The method may make use of a combination of persons in the field, GPS data, and modern smart phone technology.
Note: Our apologies, but the resources listed in the flyer (such as the GPS camera and the drone device) are proposed for The Port hackathon taking place in 31/10/14 - 2/11/14 and will not be available for the WebFest.
Weekend Goals
The determination of a viable elevation measurement method using smart phones and other basic technologies that might be available to a person in the field, and the proof of principle to show that the measurements can be performed with a smart phone.
Skills being sought
Creative thinking to detemine a method to measure elevation using smart phone technology.  Programming skills for creating the software / smart phone app to take the elevation measurements, to combine the elevation measurements with GPS data, and to create a database of the measurements.
References and background material
None.
Prerequisites: 
Basic physics and geometry. Programming skills (especially smart phone programming) are helpful for the software element of the project.
Contacts
Michael Kagan: mkagan@cern.ch
Ines Knaepper: ines.knaepper@cern.ch
Daniel Dobos: Daniel.Dobos@cern.ch
Karolos Potamianos: karolos.potamianos@cern.ch