Home
What is the CERN Webfest?
Each year since 2012, CERN hosts an annual 'Webfest'. This is a hackathon-style event, bringing bright minds together for a weekend to work on creative projects using open web technologies. Participants work in small teams, often designing web and mobile applications that help people engage with CERN's research, physics, or even science in general. CERN's online Webfest isn't just for those that can code: anyone with an idea, a challenge, or other skills is welcome to take part.
CERN Webfest 2021
The 2021 CERN Webfest took place on the weekend of 21-22 August. The Webfest is CERN's annual hackathon based on open web technologies. 300 people signed up for this year's event, which was held online for only the second time.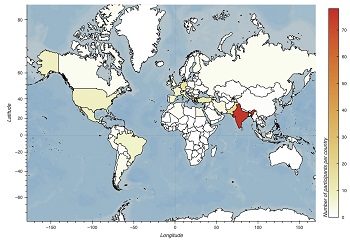 The participants — from 63 countries spread across the globe — formed into small teams and used their combined skills and knowledge to develop innovative prototype apps, hardware, and other tools. 
The theme for this year's Webfest was "science, society, sustainability", with participants encouraged to work on projects that address certain UN Sustainable Development Goals. In line with these, teams at the Webfest created an application to warn of wildfires, a concealed alarm system for victims of domestic violence, a directory for online learning materials, a website providing clear and accurate information about nuclear energy, a health app that identifies nutrient deficiencies, an AI system to aid with studying, and much more.
Information on all 22 innovative projects can be found here.
Watch the Webfest's closing ceremony to find out more about the event.
The theme for this year's event was 'science, society, sustainability'. We encouraged projects that support the UN's Sustainable Development Goals (SDGs) as well as projects that relate to the five SDGs to which CERN de facto contributes. These SDGs are as follows:

Projects for facilitating online science collaboration — thus reducing the need for frequent international travel — were also strongly encouraged. This picked up on the theme of last year's Webfest and is in line with SDG:
The goal was for the CERN Webfest to serve as an exemplar for how people can come together virtually — from all corners of the globe — to collaborate successfully, without the need for long-distance travel with a large CO2 footprint. Other environment-focused projects were encouraged at the Webfest too, in support of CERN's Year of Environmental Awareness.
Watch the final video presentations to learn more about the projects!
"Focusing on the Sustainable Development Goals, the participants in this year's CERN Webfest showed a great commitment to using their skills to improve our world," says Charlotte Warakaulle, Director for International Relations at CERN. "Their creativity and innovation has not only generated new practical solutions to societal challenges, but has also inspired new ways of working together." Warakaulle, who was one of the judges at this year's event, continues: "The wealth of ideas presented has great potential to make a real difference in peoples' lives. Congratulations to all of the participants for this achievement!" 
Join us via the web — born at CERN — to help improve our world. You can contribute as a mentor or helper too: http://cern.ch/go/fnP6.
Registrations were available here.
Anyone with an idea to work on at the Webfest, was given the chance to submit it here by 17 August (23:59 CEST). 
Gallery